The Digital Human Platform is a form that combines various AI technologies with an avatar with a humanoid appearance. Thanks to the advancement of AI dialogue technology and visualization technology, there are currently a number of Digital Human Platform companies appearing.
Amelia from IP Soft
Amelia
Amelia is the leading conversational AI system. Her superior natural language understanding and end-to-end learning are second-to-none among digital employees.
IP Soft's Amelia is a system based on the Digital Human Platform developed by IP Soft, and its main business model is to replace the existing chatbot market with advanced technology. Therefore, we aim to flexibly process specific tasks in a more natural natural language method, and allow free change of topics during conversation, and introduce an element of memory that existing chatbots do not have. The following is a YouTube video.
Neon from Samsung Star Labs
NEON – Artificial Human
NEON is a computationally created virtual being that looks and behaves like us.
Neon, created by Samsung Star Labs, aims to create artificial humans that look like humans as much as possible, and is said to be putting a lot of effort into ensuring that everything can be processed in real time. Recently, through a business agreement with CJ, we are trying to apply it to the content production business. The following is Neon's YouTube video.
UneeQ's Digital Human Platform
Digital Humans: Conversational AI Solutions & Chatbots | UneeQ
The UneeQ digital human platform allows you to design & launch AI chatbots that recreate human interaction. Create a UneeQ emotional connection today.
UneeQ also recently launched the Digital Human Platform as a service. Also, we are targeting the chatbot market as the primary target, and the peculiar thing is that we are preparing a digital human market where we have created several digital humans that have been trained differently for each specialty and purchased and used them. Even once the validity of this approach is put aside, I wonder how the concept of "selling" virtual humans will be accepted in the future market. The following is a YouTube video.
Codelane's Digital Human Platform
Digital Human Platform by Code Lane GmbH
Digital Humans. Realistic 3D avatars that feel like interacting with a real person.
Compared to the previous three companies, Codelane's Digital Human Platform is not well known, but from the perspective of application fields, it has a variety of business models such as virtual health coach, digital assistant, and e-learning as well as customer service as shown below.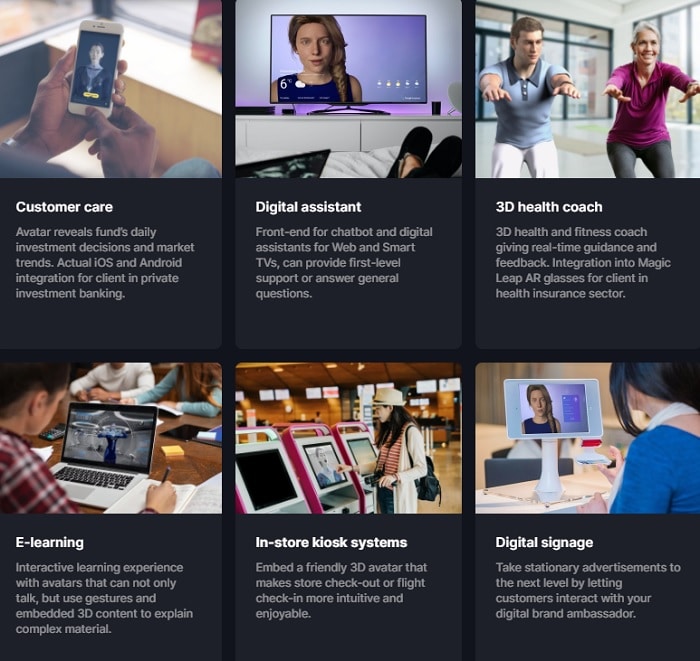 I think that the emergence of many companies specializing in Digital Human Platform means the emergence of a new service category called Virtual Human. However, it is evolving to be very close to humans visually, but in terms of intelligence, it is an advanced version of the existing chatbot, and its main business areas are limited to customer response. Currently, virtual avatars are being considered very actively in the entertainment area such as games, virtual celebrities, and personal broadcasting. When the Digital Human Platform appears in earnest, its use in these entertainment areas is also expected to be greatly expanded.