[Prior Research Team Hongmae Shim]
NAVER first unveiled Korea's first'ultra-large AI' Hyper CLOVA, a Korean version of GPT-3, developed by itself at the'NAVER AI NOW' online conference held on the 25th.

Unlike the open AI GPT-3, where it is difficult to use languages other than English, the biggest difference is that specialized in Korean (Korean ability). Hyper CLOVA learned more than 6500 times the Korean language data than GPT-3. For GPT-3, if English accounted for most of the learning data, the Hyper CLOVA learning data reached 97% in Korean. In addition, Hyper CLOVA has been developed with a scale of 204B (204 billion) parameters, which exceeds GPT-3 (175B), enabling more problems to be solved (Reference: Figure 1).


"Hyper CLOVA is the first super-large Korean AI that can understand and speak Korean best," said Seong Nak-ho, chief executive of Naver Clova's CIC Biz. He said, "The user can speak all the sentences perfectly so that they can communicate comfortably without conveying my intentions."

At the conference, a number of use cases were introduced to demonstrate the various capabilities of Hyper CLOVA. The first case introduced was a dialogue that understands context and shows empathy. It was noteworthy that Hyper CLOVA allows very natural, connected conversations, and that there is no need to create a separate data set to construct such a conversation system. When it comes to artificial intelligence, it usually resembles a hard and mechanical image, but Hyper CLOVA has the advantage of catching various detailed elements hidden in the context of the conversation, such as recognizing and responding to the user's satisfaction. (Reference: Figure 2 -Left) In addition to the case of analyzing the emotions contained in the sentence, an example was also introduced.If you wrote the purpose in one sentence and showed only 3-5 simple emotion analysis examples, we were able to predict and give an answer even what was not in the example. .(Note: Figure 2-right)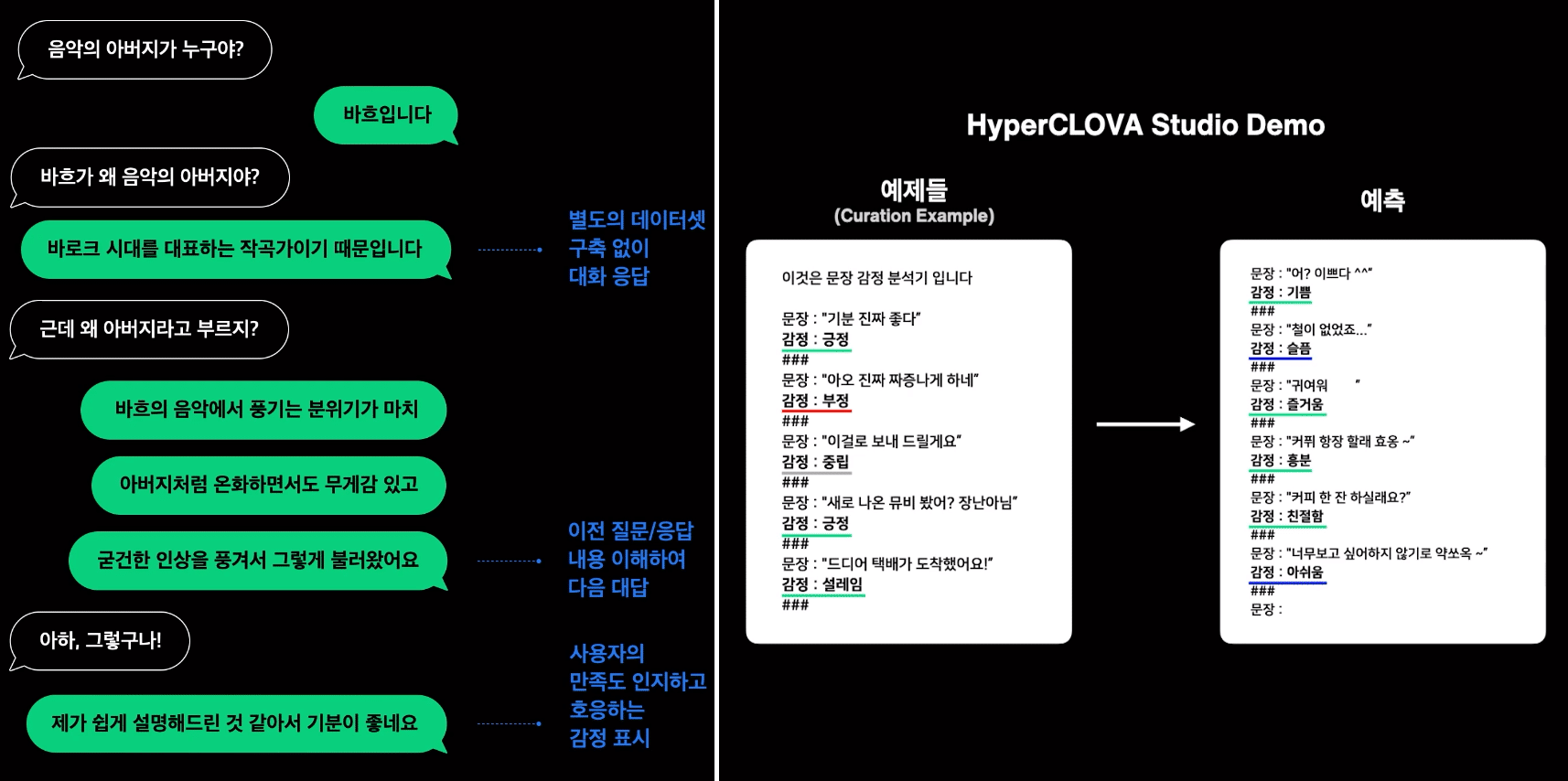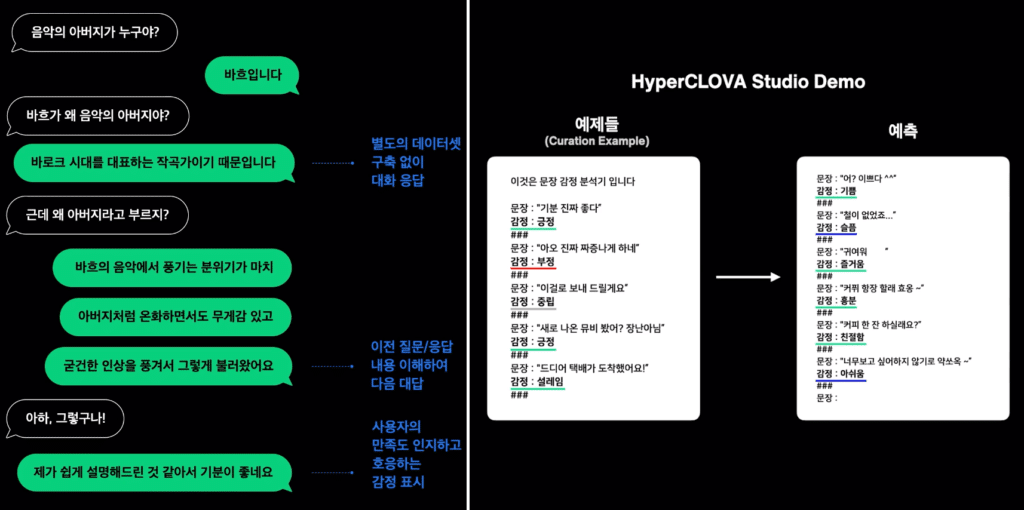 In addition to the above examples, through an engine called Hyper CLOVA Studio, the emotion analyzer, email response writer, creative AI such as title generation, translation between languages, dialect translation, writing three lines, movie recommendation, slang removal, article writing, self-introduction, and symptom-specific treatment. You can create a variety of artificial intelligence models that users want, such as subject recommendation.

In the future, Naver plans to expand the language model in languages other than Korean and develop Hyper CLOVA with'Multimodal AI' that understands video, audio, and images. 

If a large-scale language model such as Hyper CLOVA is serviced so that it can be used more easily by more people, it is expected that many new services that were not imagined will appear as planners who are not AI experts can identify and create results themselves.


References: https://tv.naver.com/ainow